News - September 2021 - July 2021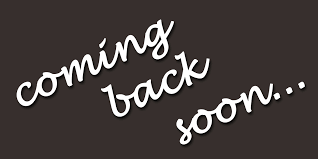 4th March 2021
World Book Day
This years World Book Day was a little bit different as it was celebrated at school and at home. It was great to see lot's of our home learners dressing up too during the live lessons. Have a look at the amazing costumes worn today.
23rd February 2021
Thinkusaurus Visit Eastlands
Today at Eastlands, we had very special visitors! 4 of the Thinkusaurus team came to a very windy outside area. They danced, waved and made all of our children, and adults smile. Thank you for coming (in your dinner break from secondary school) to see us. They said they will be back again soon!
15th February 2021
Competition Time - Design a Logo
We have been contacted by the Hillmorton and East Rugby Together Community Group to ask if our school would like to take part in a competition. They are asking you to design a new logo. The winner will receive £30 of books and £100 of books for their school library. 2 runners up will each receive £10 of books from our local independent Usborne Book Seller. The group have sent you a letter with all the information you need. Good luck!
Click HERE to download the letter and the template.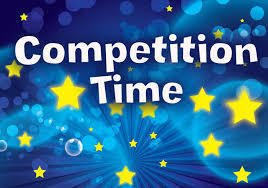 14th February 2021
St Valentines Day
It all started with a letter from a local community group asking our children to take part in a project in Hillmorton. The Hillmorton and East Rugby Together (HEaRT) community group is for the benefit of all residents in Hillmorton and East Rugby which includes Eastlands. To brighten the friendly bench which is on the Hillmorton Green, they asked all primary schools to send messages of love for everyone to read as they passed by. Our children sent in some lovingly created poems, pictures and letters. 15 were chosen to appear on the bench. Please visit the bench if you are out on your daily exercise, it is truly heartwarming. We will display all the learning around school so we can all 'feel the love.' Thank you to the HEaRT Community group for putting this all together.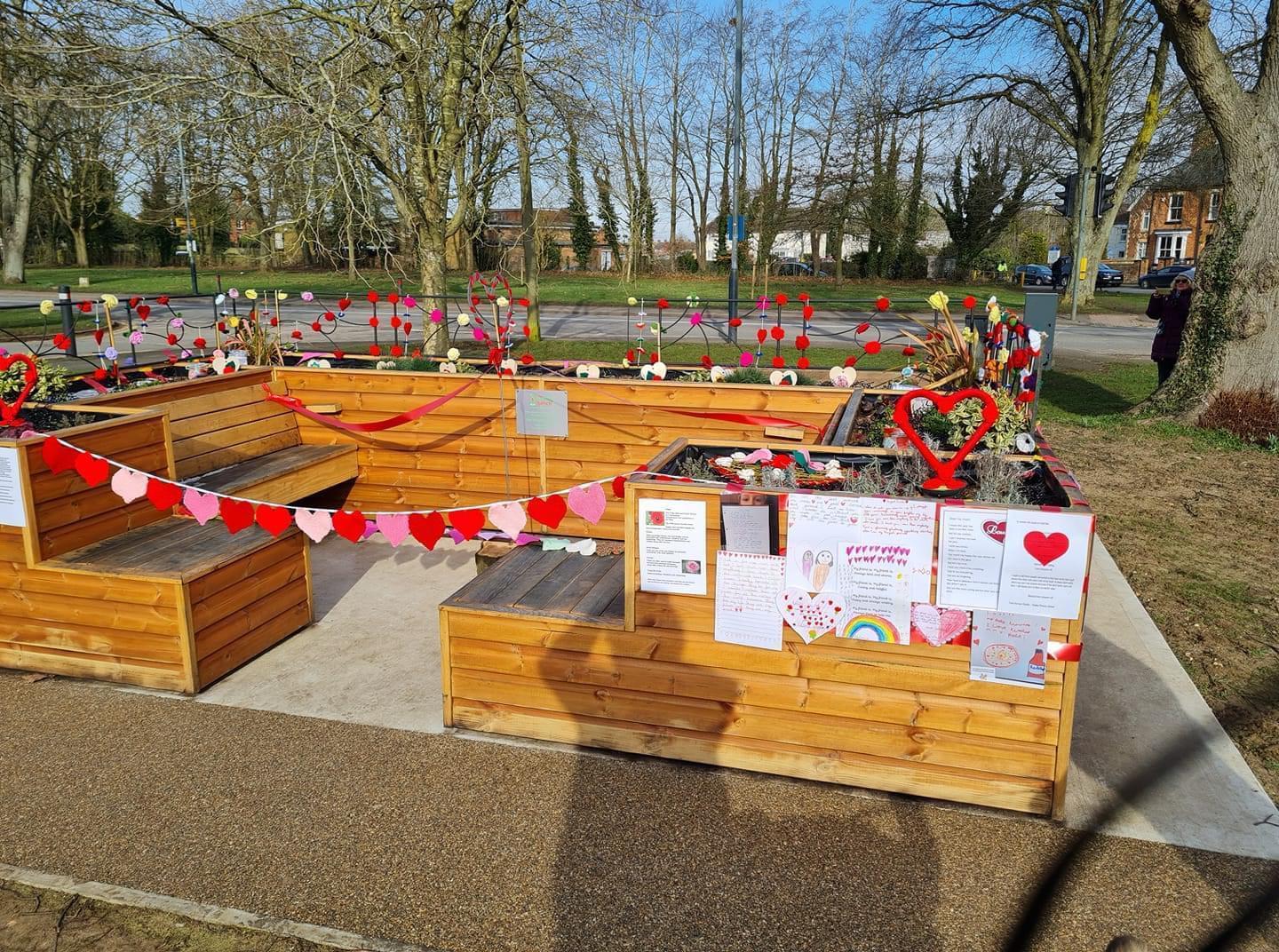 One of the poems has been narrated by a member of the community, listen below.
Wow! One our pupils appeared on Coventry and Warwickshire BBC radio on Valentines Day. Press the play button below to listen!
9th February 2021
Safer Internet Day
Both at home and at school, we took part in Safer Internet Day. We started with assemblies; Early Years and Key Stage 1 had a visit and a story from Smartie the Penguin. Have a look at our youngest children singing the Smartie song!
Key Stage 2 thought about an internet we can trust. Have a look at their learning.
A great reminder about staying safe online.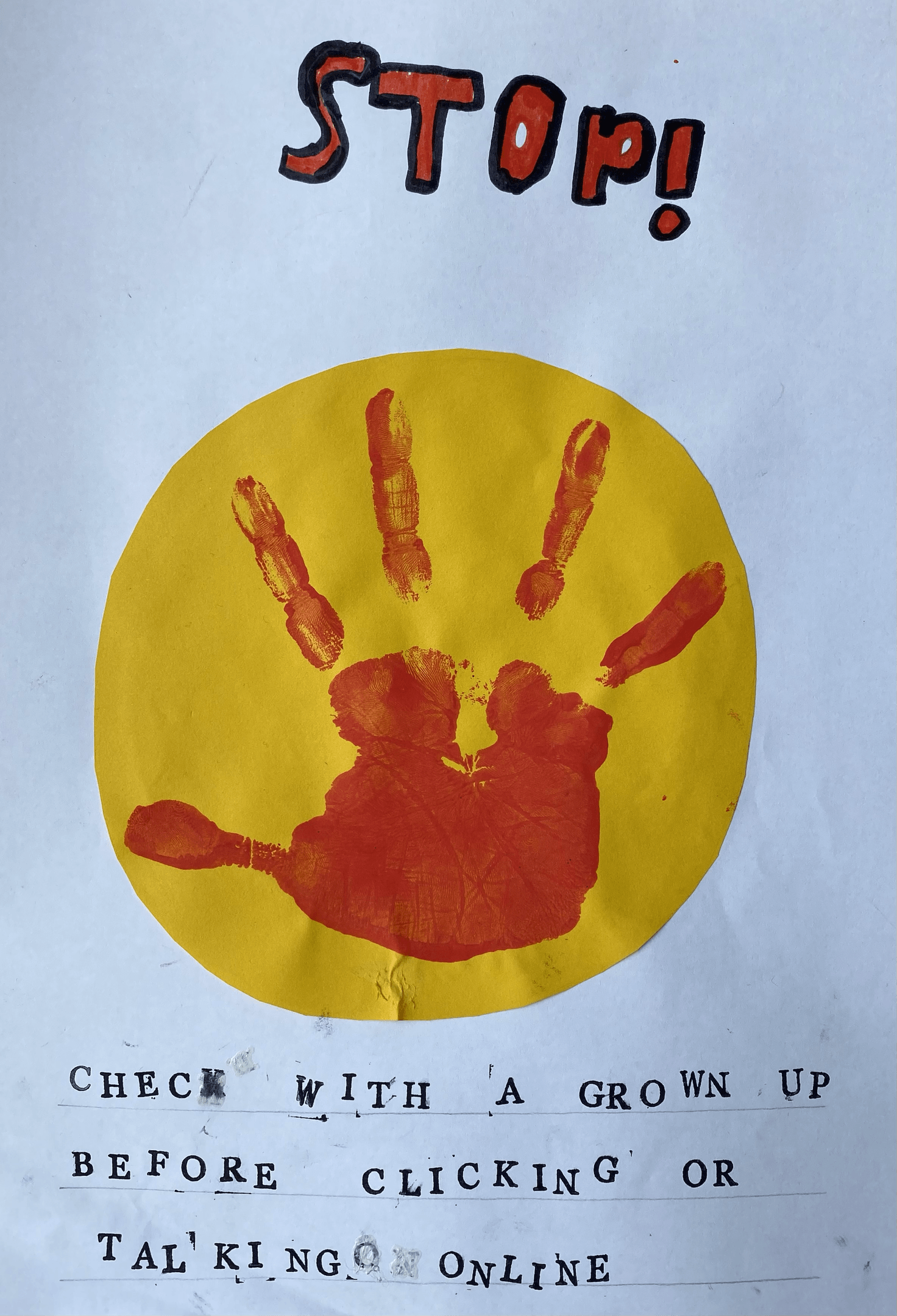 As our term comes to an end, we would like to wish you a safe and Happy Christmas.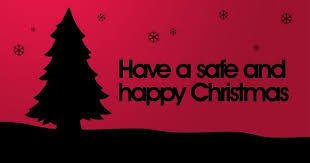 17th December 2020
Christmas Performances
Finally the day has arrived. We are ready to share our Christmas Performances with you. Visit our class pages to see Christmas around our school.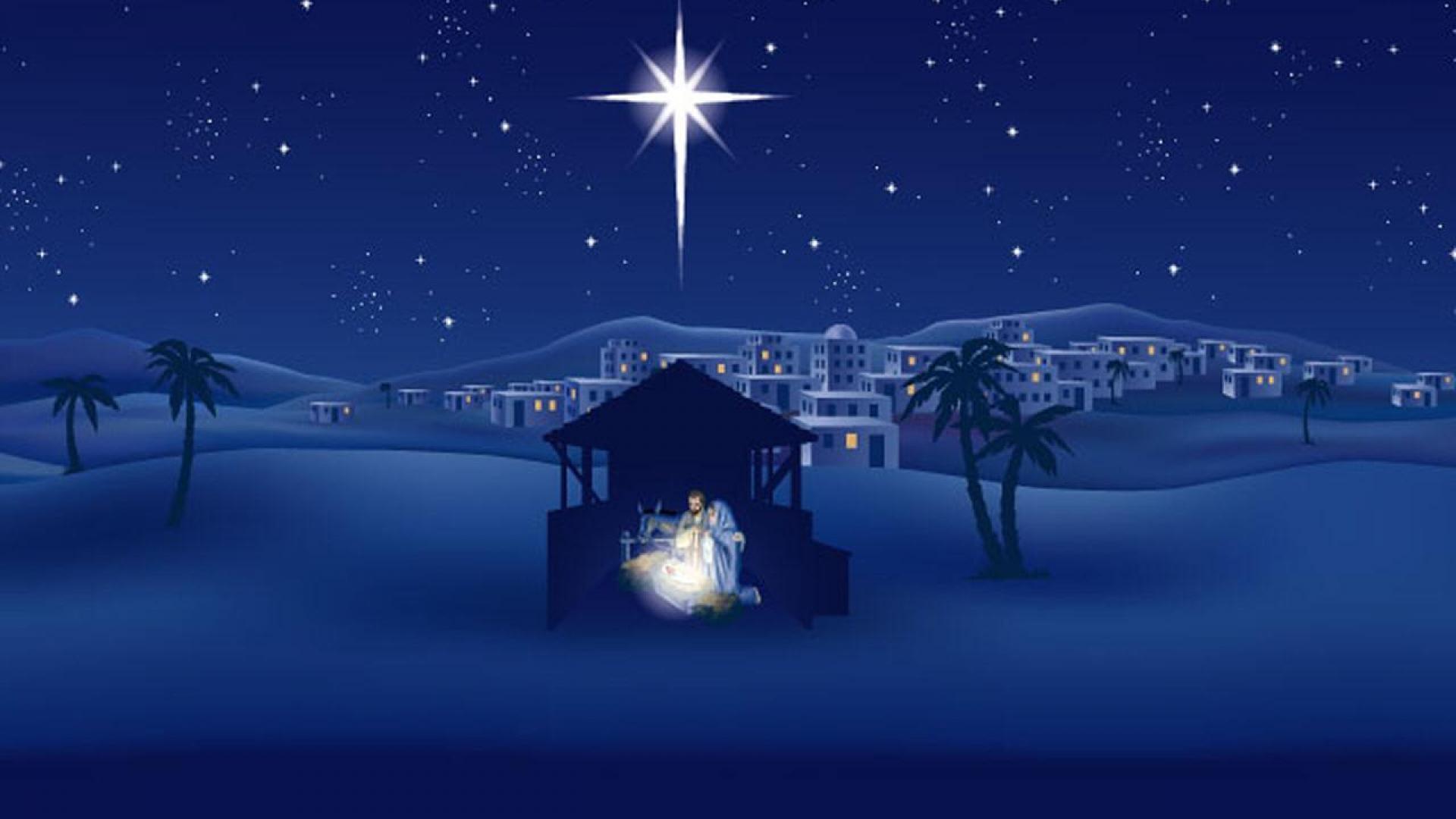 16th December 2020
Winner Winner Christmas Dinner!
20th November 2020
Anti Bullying Week At Eastlands
Have a look at what we got up to.
16th November 2020
Anti Bullying Week
We are wearing odd socks today to celebrate our individuality and all the things that make us unique! It's ok to be different
10th November 2020
Andy and The Odd Socks! Anti Bullying Week
To start our Anti Bullying week, on Monday everyone is invited to wear odd socks with their school uniform. We look forward to seeing them! Have a listen to Andy and his bands new song written with the help of some school children. Get your air guitar ready.
28th October 2020
Support for Families
Over half term or anytime Family support workers are available across Warwickshire to listen, support and offer advice and guidance to families and professionals. To speak to a family support worker over the telephone, call 01926 412412, Monday to Friday between 9am - 4pm.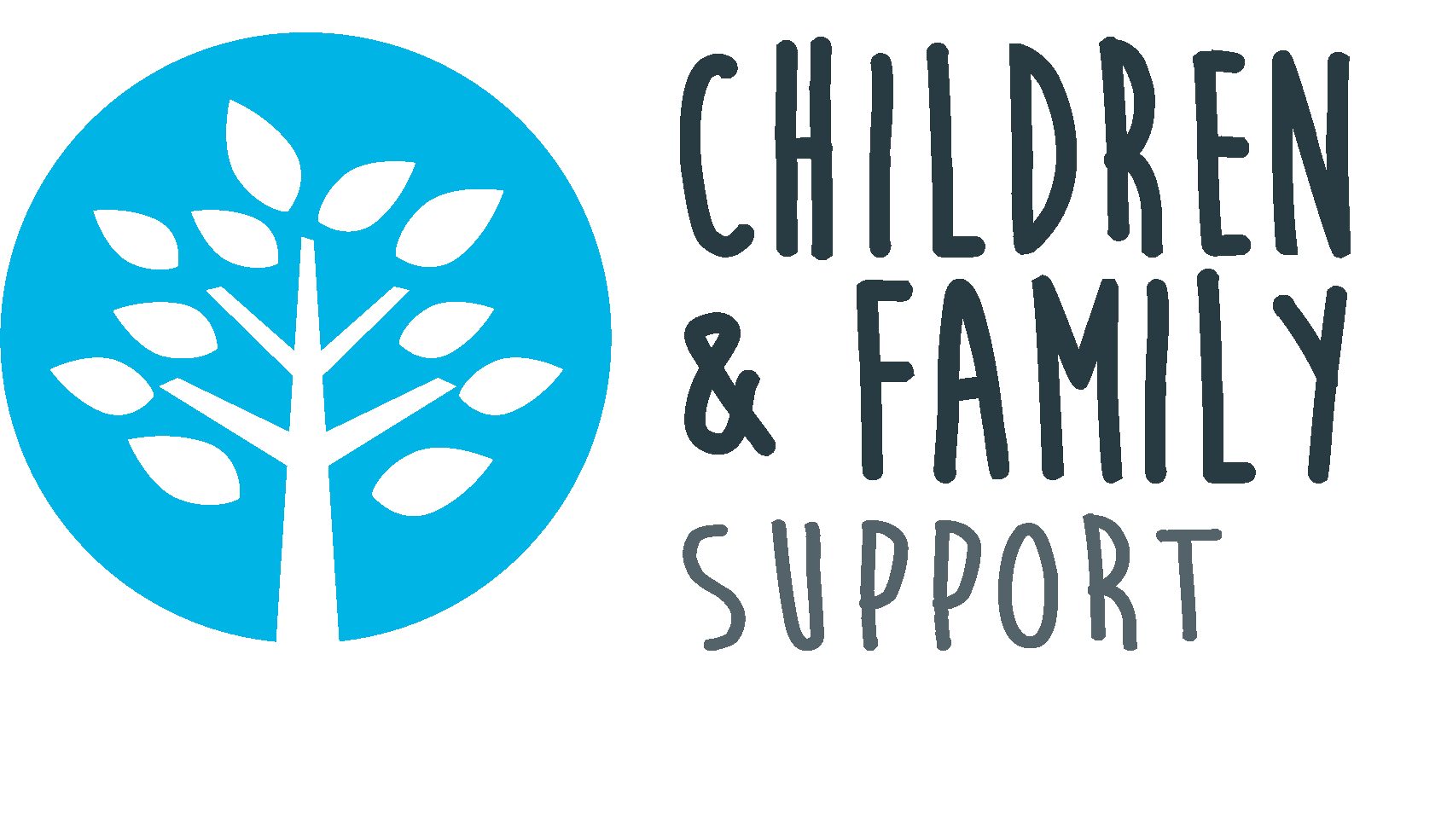 12th October 2020
Ready, Steady, Read, Listen Event.
Today we have launched our reading event in school. View the video below to hear more about it.
9th October 2020
At a time when it's needed most, together at Eastlands, we supported young people's mental health on World Mental Health Day by wearing yellow. #HelloYellow . Take a look.
30th September 2020
Ready, Steady, Read, Listen Event.
To encourage a lifelong love of reading at home and school, we will be running a sponsored read or listen, depending on the age of your child, between Monday 12th October and Friday 16th October. Click on the photograph below to read all about it.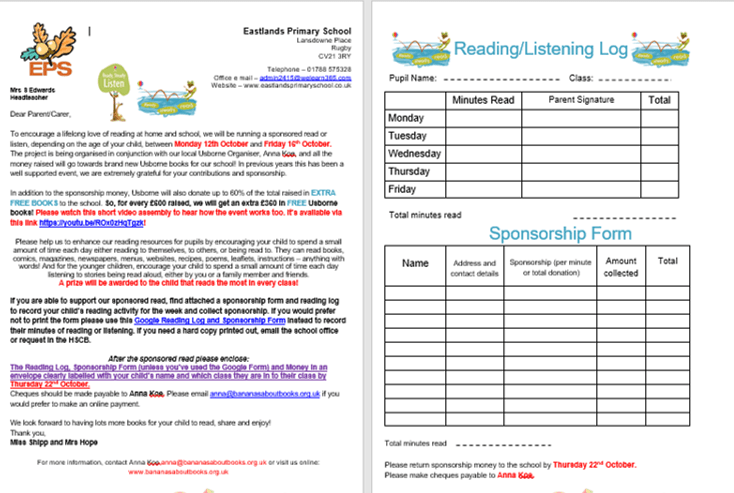 29th September 2020
Individual Photographs.
Today everyone had their September 2020 school photograph taken. There were lots of smiles and cheese! Proof cards with order details will follow soon.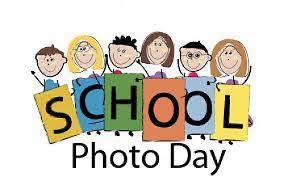 24th September 2020
Congratulations Nursery.
Many congratulations to our Nursery Class who have been awarded a Warwickshire WIncKS Award. They have demonstrated excellent inclusive practice in supporting children with Special Educational Needs and Disabilities (SEND) and their families. Well deserved!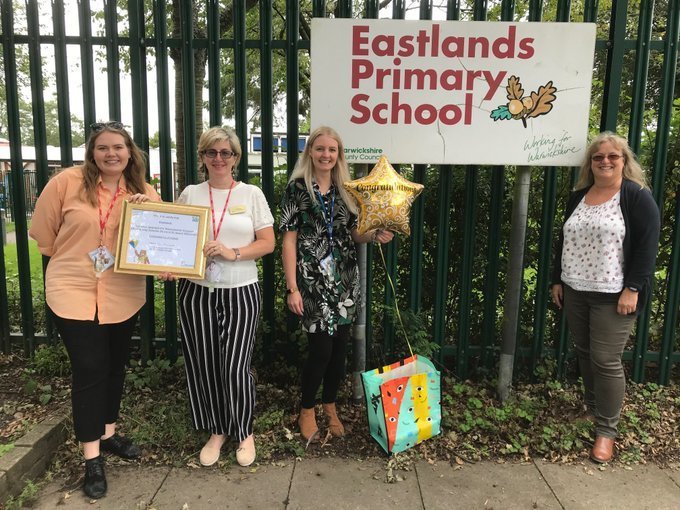 20th September 2020
Virtual Secondary School Tours.
Our local secondary schools usually have an open evening for our Year 5 and 6 parents to go to find out information for Year 7. This year, most schools are showing a virtual tour of their school. Follow us on Twitter @eastlandsschool as we retweet any information they share.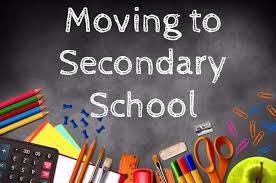 14th September 2020
Key Information Class Powerpoints.
Please have a look at your child's class page for a key information for parents and carers powerpoint. We usually have a meeting to welcome you and the opportunity to meet your child's teacher, but this year it is not possible.
3rd September 2020

It is so good to see everyone back at school and we hope that you have had an enjoyable summer. Staff have been very busy getting ready for the Autumn Term. We welcome Mrs Hopper back after her maternity leave. Miss Stonell has returned to Eastlands and will be teaching Year 6 Pandas. We welcome Miss Heales to our Nursery class and Mrs Chapman to our Reception class. There is a lot of information about our COVID measures on our communication page. Please keep returning to the page for updated information. New updates can also be seen on our newsletters. Please follow us on Twitter @eastlandsschool .
News
September 2019 - July 2020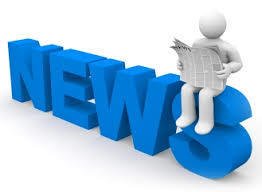 25th February - Cross Country
A very well done to the 17 competitors who represented Eastlands Primary School at Heat 1 of the Rugby Schools Cross Country. Spare a thought for the Parent's cars! Thank you to the staff, parents and supporters that came along to give encouragement and support. Also thank you to the children, your should all feel very proud. #ProperCrossCountry
22nd February - Nursery Places
Looking for a Nursery place for your child? Come and visit us on Thursday 26th March 5-6pm to ask any questions and take registration forms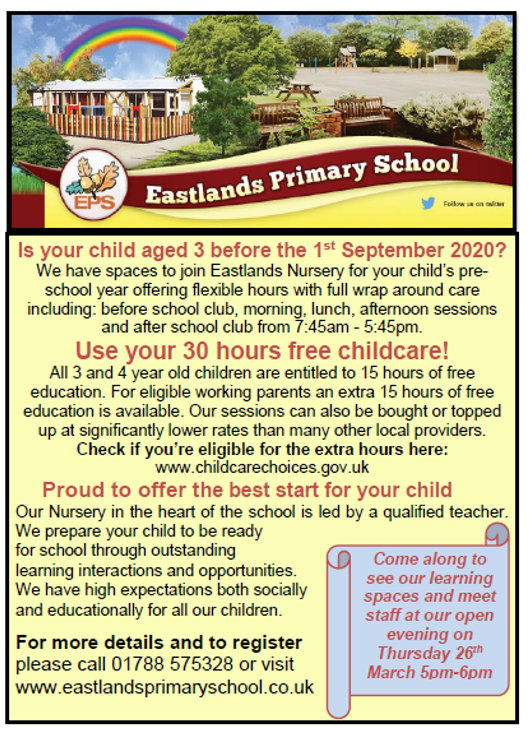 22nd February - Help Needed!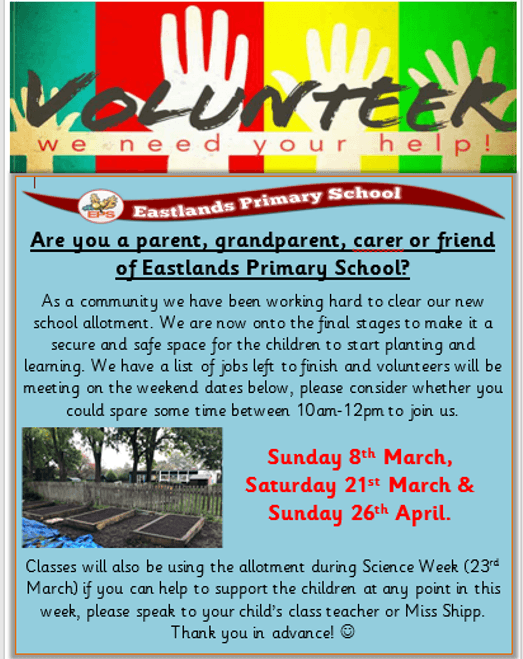 28th January -Young Voices
This afternoon, some of our children are off to join other primary schools to take part in a Young Voices singing extravaganza! It is an amazing experience. Have a look at the photographs below.
We look forward to welcoming the children back to school on Tuesday 7th January 2020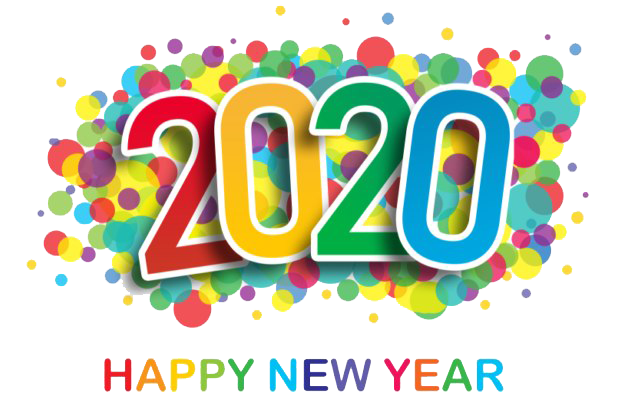 Eastlands Primary School - The Lead Up To Christmas
19th December - Visit to Church
Thank you to Rev Sheila Bridge and St Peter and John Church for hosting our Nativity story this morning. What makes the morning extra special is overhearing the lovely conversations between our youngest and oldest children en route.
Thank you for the reply to our tweet... 'Awh! @eastlandsschool these pics are fab! We had a great time, thanks so much for coming. Beautifully behaved children and some awesome singing!'
19th December - Message from Our PSA
We received this today...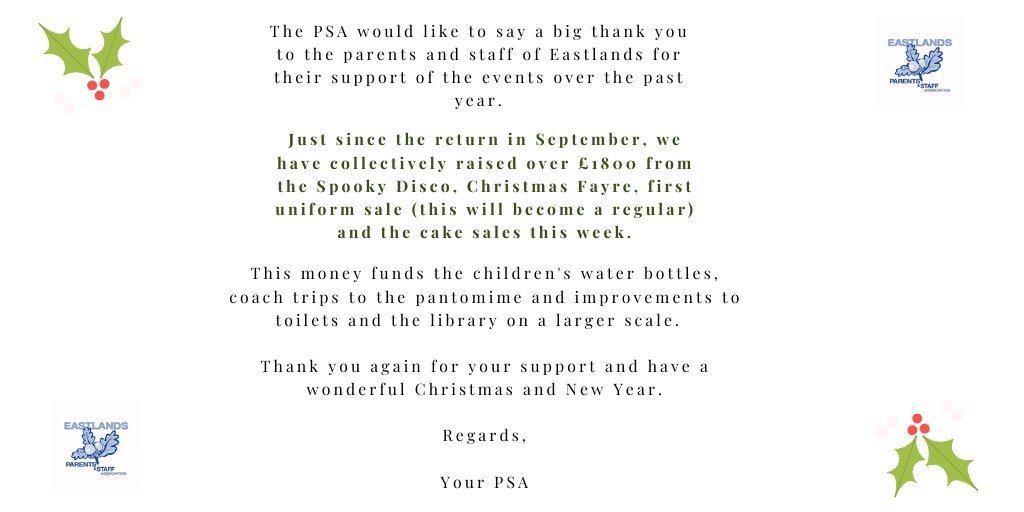 An amazing amount raised since September. A huge thank you to our PSA for all the hard work they put into raising funds for Eastlands children. We hope you all have a restful and happy break.
18th December - Christmas Jumper Day and Christmas Dinner
Winner winner Christmas dinner! The hall was buzzing at lunchtime, all in the spirit of Christmas dinner. Thank you to the catering team, the Midday Supervisors, the teachers and support staff for making the lunchtime extra special. Looking good in Christmas jumpers too. We raised an amazing £160.00 for Save the Children.
17th December - Performances
So many amazing performances from our Eastlands children this week across the whole age range. This evening it's the turn of Years 5 & 6. A Year 6's illustration clearly shows, there'll be mulled wine and mince pies afterwards. Thank you to everyone who has supported the children over the week. Also thank you to our PSA for organising the cake sale.
17th December - Rock Steady
Our Eastlands Rock Steady bands rocked the hall this afternoon and they were amazing! You can check out clips on our assembly webpage. Well done to everyone involved. https://eastlandsprimaryschool.co.uk/children-1/assemblies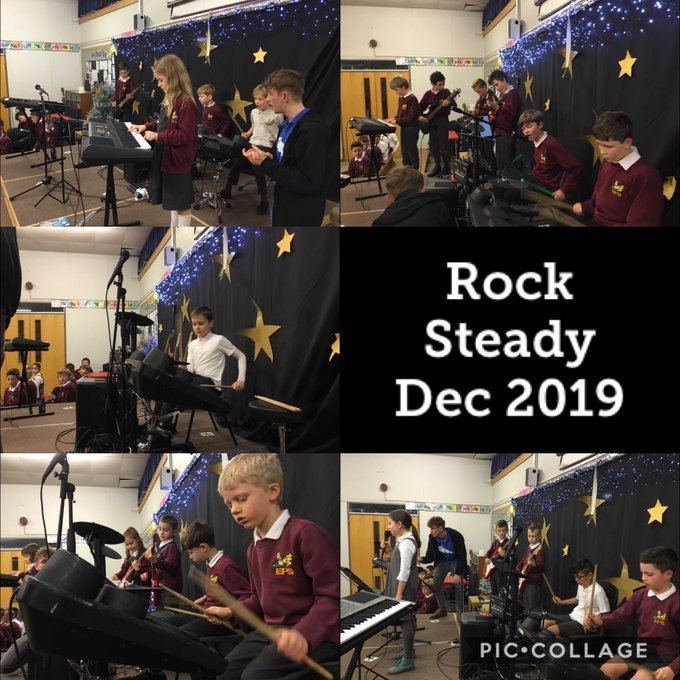 16th December - Last Week of Term
It is going to be a busy week. Christmas performances, including a cake sale. Christmas dinner, Christmas jumper day, walk to Church, singing at the care home and the end of term. More details on the newsletter. https://eastlandsprimaryschool.co.uk/news-5/newsletters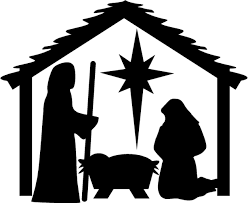 13th December - Year 1 - Year 6 Christmas Trip
KS1 and KS2 had a great time at the production of Puss in Boots today. How cheeky / inventive / resourceful of Year 6 to bring a giant "Pick Me" sign to boost their chances of seeing their teacher take to the stage. True sportsmanship on display! Thank you to the staff and cast of the Belgrade Theatre. Also thank you to our coach drivers.
10th December - EYFS Trip
Early Years children were transported to the magical world of Raymond Briggs' Father Christmas at the Warwick Arts Centre this morning. It was a brilliant show with some amazing puppetry and live sound effects.Thank you to the staff and cast of the Warwick Arts Centre.
10th December - Christmas Preparations
Around school you can hear the sound of Christmas performance songs, music and scripts. Particularly catchy tunes in EYFS. Year 6 explored the meaning of Christingle in their RE lessons. They particularly enjoyed the practical part of their learning!
6th December - Pre-loved Uniform Sale.
Thank you to our PSA for organising a pre-loved uniform sale. A chance to plan for the future, replace lost items and help the planet. Good to see Christmas Jumpers being recycled too! All monies raised supports our children in school. Thank you to the school community for supporting this event.
3rd December - Supporting the Wider Community
Thank you to our community for the generous gift of 70 kg of food for Rugby Food Bank. Your donations make a big difference to others. Also thank you for your contribution to the Operation Christmas Child Appeal—we donated 27 shoe boxes full of gifts to make Christmas special for some children.
29th November - PSA Christmas Event
A big thank you to our Eastlands for organising a wonderful evening. It was very busy. Stalls, food and drink and the raffle were very popular. Great to see our Eastlands community come out to support the event. A wonderful way to start off the Christmas celebrations!
13th November - Kindness in Nursery
Nursery have been learning about kindness. To help them to understand people's feelings they went around the school handing out a special heart note and some sweets. They said they saw other peoples faces with big smiles and that made them feel happy too. Kindness is very important! Well done Nursery.
12th November - Messages from our PSA
11th November - Rotary Club Presentation
Year 5 Elephants and Orangutans were delighted to receive their dictionaries from the Rotary Club of Rugby. We really appreciate their generosity in helping to promote a lifelong love of learning.
6th November - Anti Bullying Afternoon
In school next Tuesday we will be taking part in Anti Bullying learning. The theme for this year is 'Change Starts With Us.' Children are invited to wear odd socks for the day. We look forward to seeing them!
6th November - Remembrance Day
Today, Mrs Edwards led an assembly about remembrance day. Together as a school, we thought about our values of resilience, perseverance and showing empathy and understanding. Our Year 6 children will be selling poppies this week in school to help to raise money for the British Legion.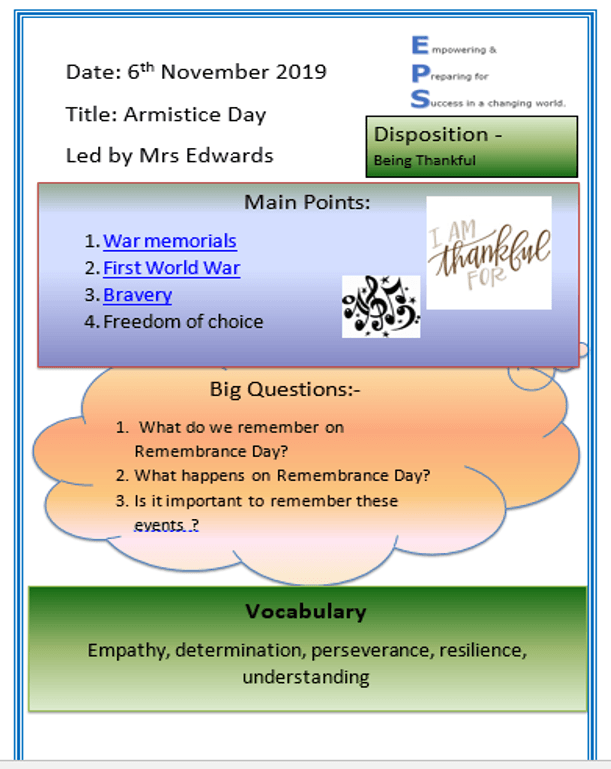 5th November - Sports Morning
Despite (or perhaps because of) the muddy conditions, Year 3 and Year 6 enjoyed their time at the Tag Rugby Festival hosted at St. Andrews Rugby Club Field this morning. Teeming rain not ideal for photos, but you get a sense of their commitment and camaraderie. Apologies for the muddy kit!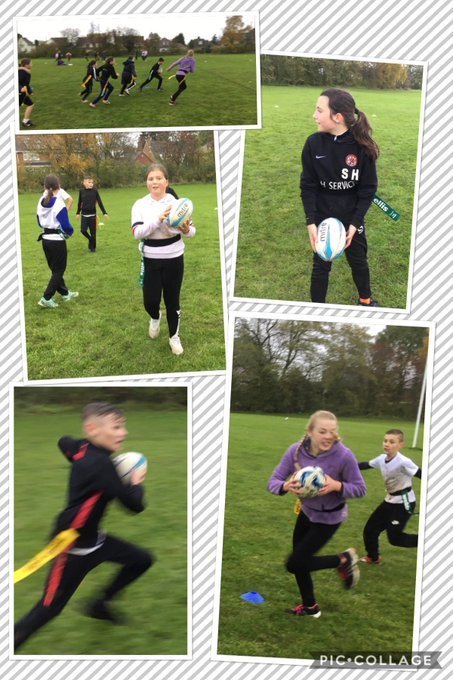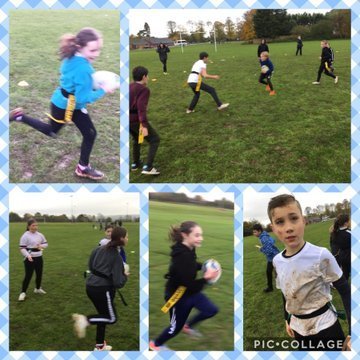 18th October - Support For Families
We have added some helpful information to our support for families webapge. https://www.eastlandsprimaryschool.co.uk/parents-carers/support-for-families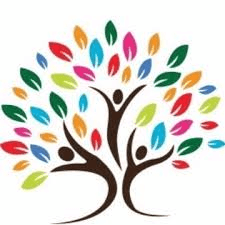 18th October- Wear it Pink
Today in school, we have the opportunity to wear pink and raise money for the Breast Cancer Now charity. Thank you to everyone as we raised a huge £164.66!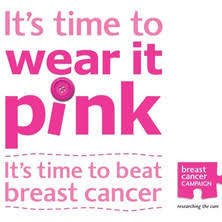 25th October - Supporting Our Environment
A huge thank you to the team from Xyleminc who came to work on our school allotment plot. We now have four raised beds for the children to plant in, great progress!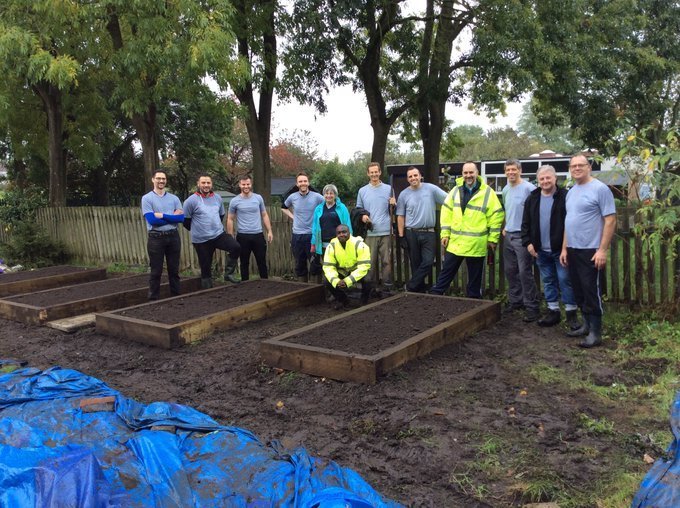 17th October - School Council
Our school council met again with Mrs Edwards today. They want to share their minutes from their meetings and they have added them to the website. Have a look. https://www.eastlandsprimaryschool.co.uk/school-community/pupil-leadership/school-council-2018-2019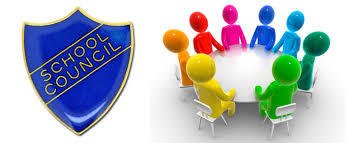 October - Spooky Disco
Our PSA are organising a spooky disco for the children! We hope you will be their to support them and enjoy yourselves.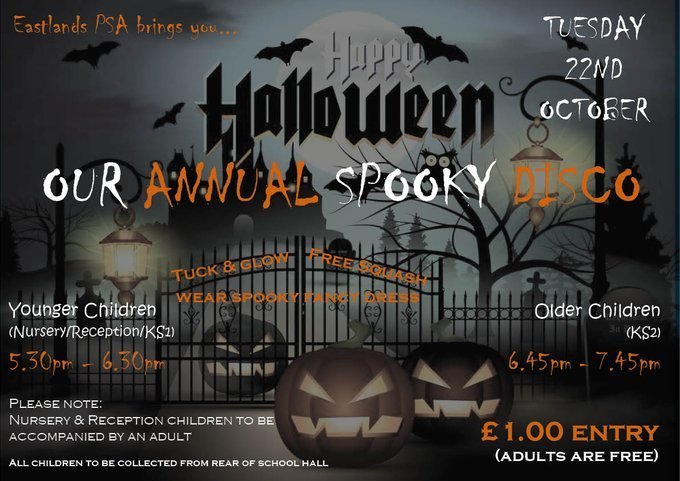 8th October - Operation Christmas Child
Today children will be bringing home a leaflet with information about Operation Christmas Child. Maybe you could pack a shoebox with small gifts such as a hairbrush. toothbrush, crayons or even hair clips for a child less fortunate. Find out more information here https://www.samaritans-purse.org.uk/what-we-do/operation-christmas-child/what-goes-in-my-shoebox/

22nd September - House Teams
In school, each of our children are part of a house team. During lessons, assemblies, on the playground and around school they have the opportunity to earn house points. We now have Year 6 house captains and they have been introduced to the school during an assembly. Congratulations on your new role!
18th September - Harvest Appeal
For our harvest collection this year, we will be supporting the Rugby Foodbank Harvest Appeal. Please send your donations into school and we will display them by the main entrance. Many thanks for your support.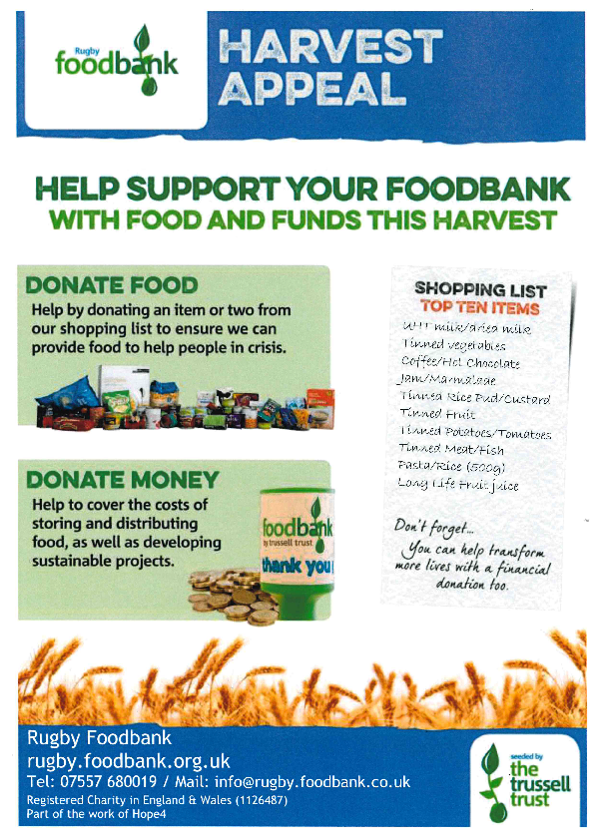 August 2019 - Summer Holidays
Although school is closed to the children, there has been a lot going on. Teachers have moved classrooms, new displays have been put up, there have been building works, our library has had a fresh bright makeover and there has been a lot of work in the school grounds. Mr Roberts has overseen everything, thank you Mr Roberts. Thank you to the PSA who have been in to help particularly in the library. Thank you to the staff, parents and children who helped out with the allotment. On August the 1st, a group of employees from Cemex came to Eastlands to lend a hand for the day. Thank you to Mr Townsend, one of our parents, for arranging this. What a difference a day can make. We are looking forward to sharing the changes with you in September.