We are back! Here is a quiz for you. Who is it behind the book? Tweet us with your score, good luck! @eastlandsschool
Hello Eastlands families and the wider community,
Your teachers are working hard to create fun quizzes for you to enjoy whilst we are all staying at home. These might be useful for breaks in between home learning, the weekends or evenings and you could have a go as a team with your family or on your own. We aim to upload a new quiz each week, so keep checking back here. Let us know your scores by tweeting us @eastlandsschool on Twitter, or via your class teacher.
If you want to get involved and make a short family friendly quiz for your school friends and teachers to try, please email your PowerPoint question slides to admin2415@welearn365.com and we will try our best to upload them too.
Happy quizzing! We can't wait to see you all soon.
Round 1: 'Who am I?' have a go at guessing school staff names using the clues to help you. Click the picture to get going!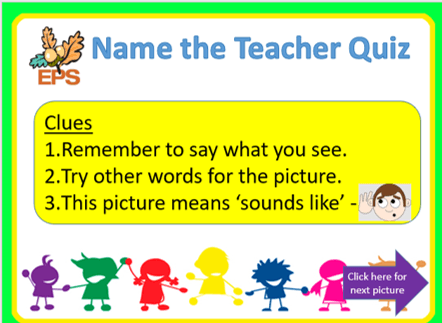 Round 2: Disney! Click on the picture to start the quiz. Good luck, share your scores with us.