Year 2 Tigers 2020- 2021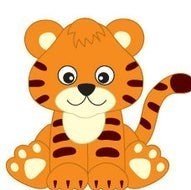 Hello and welcome to the Year 2 webpage! Miss Tuckey and Ms Haynes will be adding information, learning and photographs here over the year. Please follow us on Twitter for snapshots of class life. @eastlandsschool.
Hello Year 2 children, parents and carers!
We have had a fantastic start to our school year. Even though school feels very different at the moment you have been mature and sensible and settled into Year 2 brilliantly. You have made me and Ms. Haynes very proud.
We have been reading the book 'Here We Are' by Oliver Jeffers over the past few weeks. It really got us thinking about life on Earth and our environment. We made leaflets to help Bob the Alien when he comes to visit Earth. We included information on things to do, animals, people and of course some rules for him to follow.
In Maths we have deepened our understanding of two-digit numbers. We have been using diennes and ones to show the value of digits. We have added and subtracted tens and ones from two-digit numbers. It has been quite tricky at times, but you showed real determination and perseverance. Well done!
In Science we have been learning about 'Our Living Earth' we made the life cycle of butterflies using paper plates and pasta, then we wrote about the life cycles in our Science books. We have also sorted animals into groups such as mammals, reptiles, insects, amphibians and fish. For homework some children made fantastic life cycles of birds.
In our geography lessons we have labelled the seven continents and the five oceans. Can your child name them all? We have shown how we are linked to the rest of the world by creating posters for homework.
We are using Seesaw for our homework now, it took some time to get used to the new way of working (even for me!) but now everyone is accessing their homework and activities and responding to them. Keep it up!